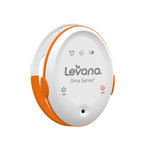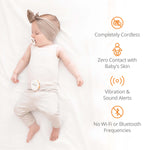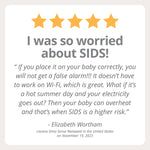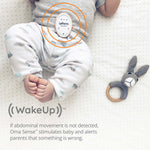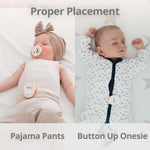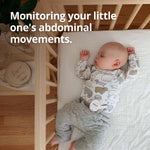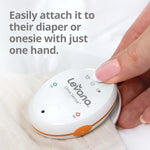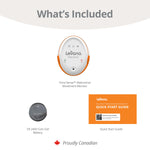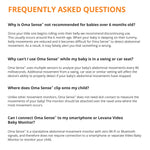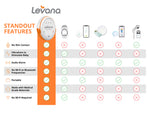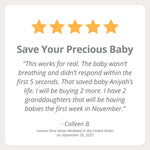 Oma Sense
Levana Oma Sense Wearable Baby Abdominal Movement Monitor
Popular Accessories
Note: 1 battery is included with your Oma Sense
Holiday Savings Sitewide!
No Coupon Necessary, Some Exclusions Apply
OVERVIEW
SPECS/SUPPORT
REVIEWS
What the Experts are Saying
Completely Cordless
No Wi-Fi or Bluetooth Frequencies
Powerful Speaker
Made with Medical Grade Materials
Easy to Clean Surface
For Babies 0-6 Months Old
The Power to Sense
Engineered to make parenthood a lot less stressful, Oma Sense is a wearable baby monitor so advanced it detects abdominal movements every 80 milliseconds without touching your baby's skin. Using our revolutionary WakeUp™ Technology, if abdominal movements are not detected, Oma Sense will vibrate to stimulate your baby and alarm to notify you that something is wrong.
Power on your Oma Sense
Clip the device onto your baby and Oma Sense will begin monitoring your little one's abdominal movements
If abdominal movements are not detected after 15 seconds, Oma Sense will gently vibrate to stimulate your baby
If abdominal movement does not resume after 5 seconds, Oma Sense will sound a loud alarm to notify the caregiver
Worry Less. Do More.
Life Saver...
"I received this device because my son was born with a strider and loose larynx and had rough breathing. One night the device sounded off twice the next day the pediatrician advised to take him to the emergency at the Stollery Children's hospital where he had emergency surgery performed. It did it's job and now my son is breathing better and in recovery."
-Bearsmom, Edmonton AB
Saved My Daughters Life...
"At one-month-old, she was napping and the alarm went off. She truly was not breathing and it took a scarily long time of picking her up and patting her butt and back before she started abdominal again. It turned out she had a condition (severe reflux) that was messing with her central nervous system and shutting down her breathing. Medication solved the problem, but I probably would have lost my precious little girl if not for this alarm. Parents worried you are being paranoid buying this- don't be. Buying it and thinking you wasted your money because it never went off is a blessing compared to not buying it and regretting it forever."
- Jennifer
A Breathing Baby is All We Want!
"This little gadget is very efficient. Our four-day old little girl forgot to breathe and the alarm sounded off at night while we were sleeping alerting us that something was wrong. Thank you for giving us a chance to get her breathing again."
- C. Leveille
All in One
Without any additional apps or devices, Oma Sense does not use any Wi-Fi or Bluetooth frequencies making it truly wireless. Rest easy knowing your internet connection will never affect the reliability of your baby monitor.
Built for Multitasking
Little one's can be a handful. We know it's hard! Oma Sense was developed using our patented clip design so you can easily attach it to their pajamas, pants or onesie with just one hand.
Designed in Canada
With 20 years of experience designing baby monitors and listening to parents just like you, we were determined to deliver a high-quality and reliable baby safety device to families everywhere. Striving for excellence, we are proud to say Oma Sense is the only baby abdominal movement monitor entirely designed and engineered right here in Canada, with patents in Canada, the US, and Europe.
Accidents Happen.
Be Prepared.
Add an Accident Protection Plan to your Mila purchase and know you're covered for unexpected damage.
Accident
Coverage*
Extended
Warranty
Free & Advanced
Replacements
Exclusive
Member-Only Deals
Portable Movement Monitor

1 x Panasonic CR2450 Coin Cell Battery

Quick Start Guide

Lifetime Customer Support
2.4 inches (H) x 1.92 inches (W) x 1 inch (D)
31.4 g
Medical-grade ABS plastic and TPE polymers
User replaceable CR2450 battery can last up to 30 days (with normal usage)
70 decibels @ 10 cm • 60 decibels @ 30 cm
Water and Dust Resistance
Yes, with no Bluetooth or Wi-Fi Connection
FCC Certified, CE Certified, RoHS, CUL/UL, ISO 13485:2003
Designed in Canada, Made in China
What The Experts Are Saying
Support Videos
Monitor Modes | Mila
How to Pair Your Camera | Mila
Power Saving Modes
1 Year
Warranty
45 Day
Returns
Price Match
Guarantee
Delivering
Peace of Mind
Frequently asked questions
Why is Oma Sense not recommended for babies over 6 months old?
+
Can I use Oma Sense while my baby is in a swing or car seat?
+
Do I need to charge my Oma Sense battery?
+
What type of battery does the Oma Sense use?
+
Does the Oma Sense use an app on my phone?
+
Frequently Bought Together